The Cut Throat World of Business is the eighth book in Season One of The Seraphic Chronicles.
It follows
NightShade
agent
Como Dru'Ins'Lajeck
as he infiltrates the
Cameron Syndicate
.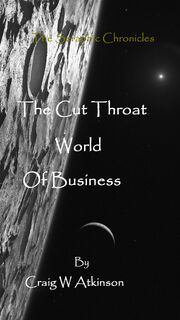 It was released in later October 2015.
Como was given his mission. Infiltrate the underworld kingpins in the Cameron Syndicate and see what they are up to in the Bregenna Expanse.
The one armed man has never let anything get in his way before, and he is determined to find out what the shadowy cargo one of the top Syndicate leaders has been ushering through the galaxy is.
Employment in one of the semi-legal businesses on the Cameron Courseway is his best option, but he is not the only one desperate for the riches and royalties in the Syndicate owned company, with bounty hunters, criminals, high class escorts and drug dealers all using whatever they can to get ahead in the interviews then is life may never have been in more danger.
And if he gets the job he'll be in even more danger, as evil forces and criminal elements from across the galaxy plot and plan for domination.
Preceded By - Duquam
Followed By - Phoenix
Behind The Scenes
Edit
This story is the second in the NightShade Trilogy planned for Season One of The Seraphic Chronicles. It follows on from Agents and will be followed by a third book following Juliet Pineche and Anthony Littlehammer, Mirror.
Ad blocker interference detected!
Wikia is a free-to-use site that makes money from advertising. We have a modified experience for viewers using ad blockers

Wikia is not accessible if you've made further modifications. Remove the custom ad blocker rule(s) and the page will load as expected.