The Birth of a Starship is a
Seraphic Chronicles
novella. It was published in September  the same day as Oblivion.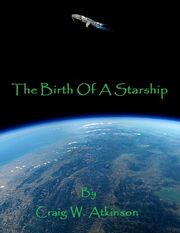 The story focuses on Bhutan Jii and his role in the design and construction of one starship, the ScSS Seraphic.
The story runs over several years, but also contains information about the "Podrink 452 Incident" seen in Oblivion.
Behind-The-Scenes
The Birth of a Starship was born from a few different sources. Firstly, the idea that all major characters from The Seraphic Chronicles should have a prequel story, and the ScSS Seraphic is certainly a character involved, the entire series is named for this one ship. But as the ship has always been designed to be a brand new vessel, the prequel story woudl have to be its construction.
The second was the desire to do something a bit different with Bhutan Jii as a character. He had been a throw away character to begin with, but through the writing of Rhapsody and Kingmaker won himself his own stand alone novella.
The thrid was one of the best sci-fi books ever, the Star Trek: The Next Generation Technical Manual. Now while this book is great on science and engineering, there is no soul wihtin it. TBoaS was designed to be part tachnical manual, part novella, with a real story and characters people could love.
Ad blocker interference detected!
Wikia is a free-to-use site that makes money from advertising. We have a modified experience for viewers using ad blockers

Wikia is not accessible if you've made further modifications. Remove the custom ad blocker rule(s) and the page will load as expected.